When PMS Becomes PMDD & Why Women Need More from Medicine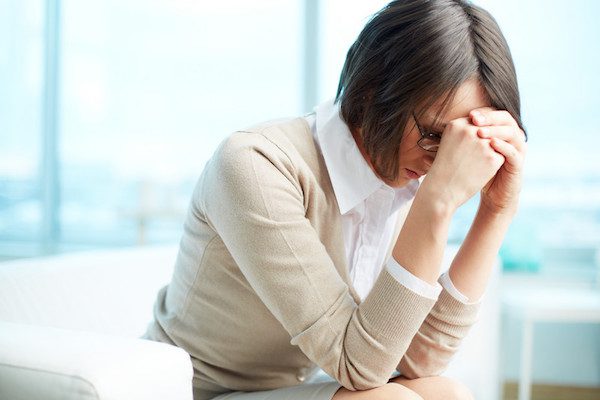 Premenstrual Syndrome (PMS) is a term virtually everyone knows. It comes with headaches, bloating, moodiness, cramping, and emotional fluctuations. Every person with a uterus knows how awful PMS can be, and it only makes it better that it happens every month for several decades. Not. But some people have even more vengeful ovaries, which causes PMS to progress to PMDD.
PMDD is a little-known and only recently-recognized condition that resulted from pain studies on women regarding their menstrual cycle. Turns out, some symptoms of cyclical changes are equivalent to much more serious mental and physical afflictions – like cramps, which are equivalent to the pain you experience from a heart attack.
But what exactly is PMDD? Where does it come from? And most importantly – how can we relieve the truly awful and forever-recurring symptoms of PMDD?
What is PMDD & Where Does it Come From?
Premenstrual Dysphoric Disorder is a mood disorder and an extreme form of PMS that can affect anyone with female reproductive organs from the time of their first period all the way up until menopause. For many people suffering from PMDD, that means, like, 40 years of a week or more of PMDD symptoms 12-13 times a year. That makes this condition both acute and chronic – think about it – that's 480+ times before menopause finally comes in and causes new and different issues! Being a biological female is a blast, really.
The exact causes of PMDD aren't well-understood, because between the hormonal changes of a menstrual cycle and associated neurotransmitter functions, there's a lot to look at and a little mystery behind it. PMDD might be caused by an adverse reaction to those hormonal changes, serotonin deficiencies, or low levels of progesterone.
Symptoms & Risk Factors for PMDD
PMDD affects literally everything about how you feel during that week before your period. There are physical, psychological, nervous system symptoms, and more. Some of these include:
Psychological

Irritability
Low emotional control
Anxiety
Poor self-image
Fatigue
Depression
Insomnia
Confusion

Physical

Allergies
Vision changes
Infections
Hot flashes
Painful menstruation
Easy bruising
Heart beat irregularities
Breast swelling/pain

Gastrointestinal

Cravings/changes in appetite
Cramps
Constipation
Bloating
Pelvic pressure
Aching in lower back
Nausea
Vomiting

Skin

Acne
Inflammation
Itching
Aggravated eczema/psoriasis

Neurological

Dizziness
Fainting
Muscle spasms
Numbness/tingling in limbs
Limb weakness
Headaches
PMDD is diagnosed when a combination of several or more symptoms become severe to the point of interfering with daily functions, and are not explained by a comorbid medical condition.
Traditional Approaches to Treating Symptoms of PMDD
Because it is believed that women are especially sensitive to hormones, the way doctors approach PMDD largely avoids directly facing that issue, instead relying on interventions like:
Birth control pills to block the luteal phase of the cycle
SSRIs
Drugs that block progesterone production by the ovaries
Anti-inflammatories
In addition, they might recommend lifestyle changes like:
Exercise
Less caffeine and alcohol
Increased sodium intake
A diet with more proteins and complex carbs
Some patients may find one or a combination of these therapies effective at relieving their symptoms. However, are they missing out on a systemic solution for PMDD? Because, despite popular opinion, it's looking like we really should be facing the hormone situation head on.
Enter: BHRT
Bioidentical Hormone Replacement Therapy for PMDD
There's an intricate but clumsy dance ovaries do throughout a menstrual cycle, and different women have different sensitivities to these fluctuations. Bioidentical hormone replacement therapy (BHRT), which is also used to tame the symptoms of menopause, can bring estrogen and progesterone levels back into a balance tailored to the patient's unique responses to relieve symptoms of PMDD.
The interesting thing about BHRT as a PMDD treatment is that, where progesterone may be the savior for some, it may be the culprit for others. There's clinical evidence to support both claims, which is why a BHRT therapy plan needs to be closely designed and monitored by your functional doctor or OBGYN.
Some things science is observing about the delicate dance between estrogen and progesterone include:
2012: PMDD symptoms in 1920 women were significantly improved with hormonal treatment of drospirenone and ethinyl estradiol.
Something these studies, and others, indicate is that there is no hard and fast estrogen vs progesterone answer. And many of these study results were accompanied by a sizable placebo effect, which is often expected in studies exploring mood and affect disorders. But another thing these and many other studies suggest is that BHRT is as capable, and possibly more so, at treating PMDD than SSRIs.
If you're suffering from PMDD, ask your local integrative wellness center about bioidentical hormone therapy – it could very well change your life! At least for 480+ times. Sounds worth trying out.