Renew Skin
There are many ways to rejuvenate skin. Some people seek out techniques to soften wrinkles and make skin tighter. Others want their scars from acne, surgery, and stretch marks to soften and become less noticeable. Plastic surgery, face lifts, eye lid procedures, botox injections, laser therapy, and other techniques have been utilized for many years. An alternative for skin rejuvenation is injection of Platelet Rich Plasma into the deeper layers of the skin. This has been shown to regenerate collagen and make it thicker. While this treatment can work very well to reduce wrinkles and stimulate skin regeneration, injecting the PRP into the skin with an ordinary needle and syringe is also significantly uncomfortable.
Dermapen Cincinnati
After researching alternative techniques, we have begun to use a new tool called the Dermapen (TM). This device is about the size of a large fountain pen, and it utilizes 11 micro-needles in a small sterile disposable tip that can penetrate the skin at 90 times/second. This produces up to 990 micro-holes/second, and needle depth can be adjusted from 0.5 to 2.5 mm. The device produces a controlled injury to the dermis without causing a significant disruption of the superficial layers of the skin (epidermis). Therefore there is minimal down time for recovery. Using the Dermapen (TM), we can push collagen regenerating hyaluronic acid, other topical anti-aging products, and Platelet Rich Plasma into the dermis with very little discomfort. As the collagen begins to thicken and strengthen, fibroblast cells multiply and there are significant beneficial effects to the skin.
Acne Scars

One of the most successfully treated conditions is the scarring from severe acne and chicken pox. These pictures are from a medical study for acne scars using the device every six weeks for six treatments. Unlike other procedures, the down time is limited to one-three days.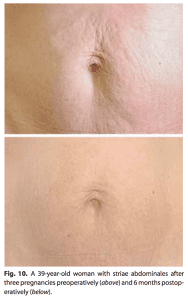 Stretch Marks
In a similar fashion, stretch marks from pregnancy or weight gain can also be successfully treated so that they fade and the skin becomes smoother.
Common areas of treatment include the face, neck, abdomen, and hands.
Contact Us for Cincinnati Dermapen Information